The HB4FR Radio Exhibition
The exhibition, as it is presented today
Through interesting and alternating "Clin d' Ailes" exhibitions, the club displays radio and transmission equipment of Swiss aviation troops and Hallicrafters Radios collected over time. It also demonstrates the importance of radio in military aviation by operating the amateur radio station HB4FR. Thus it is possible to interest the numerous visitors in both radio technology and amateur radio.

Click on the marquee for a description of the exhibits from the Hallicrafters collection of Dr Max de Henseler (HB9RS, Silent Key).
The Memento (provisionally in French) delivers some important characteristics of the objects. All the devices described are part of the collection.
Opening Ceremony of the HB4FR exhibition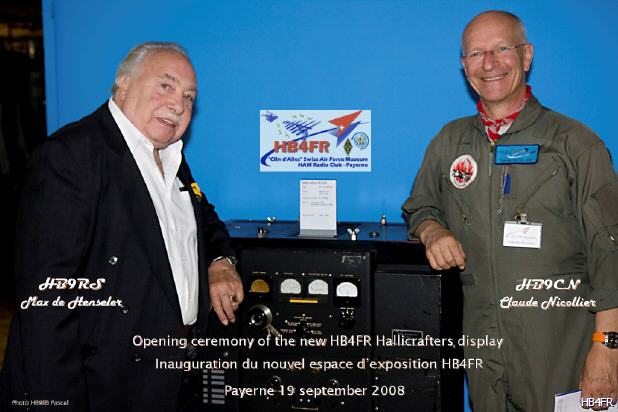 The picture shows our two illustrious members and a legendary radio station:
On the left side: Dr Max de Henseler (HB9RS, Silent Key); his historical collection of "Hallicrafters" radios is currently exibited. Max is an eminent personality in the amateur radio community. Learn more about Max
On the right side: Astronaut Claude Nicollier, HB9CN. Claude is a member of our club and assists us especially in the context of our events with schoolchildren and students. [Learn more about our Swiss astronaut].
The radio between the two men is a short-wave SE-402 (transmitter-receiver 402), formerly used in the Swiss Army. These devices have been sold by the Americans in the post-war surplus under the name SCR-499/A. It is a station built on the basis of amateur radio Hallicrafters HT-4 and the tuning device AT-3, combined with receivers "Signal Corps" and BC-342 BC-312. In Switzerland the army station covered first the name SM46 and later SE 402.